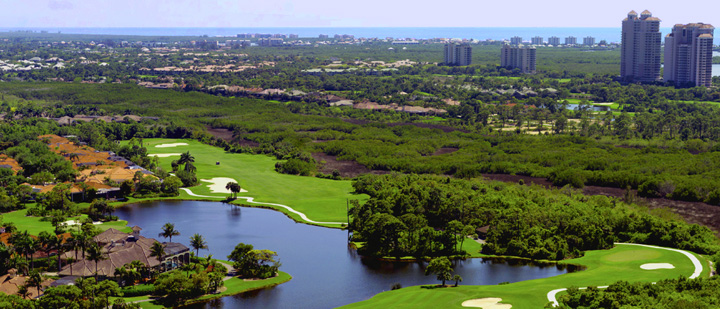 View All Bonita Bay Listings
Amenities:

5 Golf Courses

2 Clubhouses

Tennis/Swimming

Private Marina
Though Southwest Florida is made home today by many private communities with compelling amenities in golf, tennis and other luxury resort-style offerings, this simply wasn't the case not so many years ago. Long before the region earned status as a popular metropolitan statistical area, in fact, in an era when Bonita Springs wasn't even recognized as a city, but more something of a rural fishing village on the outskirts of Naples and Fort Myers, there was a man who had an extraordinary vision. David Shakarian, the founder of General Nutrition Corporation (GNC), fully understood the extent to which Southwest Florida would attract new generations of homeowners. However, he also realized that preparing for the future shouldn't result in harsh consequences on the environment that so singularly separates this region from others. In 1979, after acquiring 2,400 acres in Bonita Springs, Shakarian directed a team of developers in the creation of a new kind of community. He embraced the idea that it wasn't necessary to engage in mass clearing and stripping of natural features, rather, it was possible to incorporate a habitat around the existing natural elements to produce a space in which all harmoniously exist with nature. Shakarian regrettably died before seeing the ultimate fruition of his goals, but his family held firm to his values and Bonita Bay was born. The emergence of Bonita Bay not only set new standards in environmental stewardship, sustainability and master-planned development, but also set the bar for greatness. The practices in ecological sensitivity helped Bonita Bay garner national acclaim, but its abundance of amenities have helped establish this as one of the most desired home locations in Southwest Florida. Over the years that have followed, many other communities have striven to achieve what has been achieved at Bonita Bay, but that has proven to be a daunting task. For its natural beauty and quality in home construction, for the professionalism in delivery of services and sheer range of exceptional amenities that make life so enriching, Bonita Bay remains arguably unrivaled.
Enriching Amenities
The Member-owned Bonita Bay Club is the region's ONLY private country club with five championship golf courses, 18 Har-tru tennis courts, two Community Clubhouses and a fitness center with spa that encompasses more than 10,000 square feet. Members also have access to their own private beach club which is located only a few sandy steps from the Gulf of Mexico. For boaters, Bonita Bay also has its own private marina. The community is complemented with some 12 miles of walking trails and bike paths. Whether pedaling or strolling around the neighborhoods, don't be surprised to spot a deer or eagle, osprey or otter. Since more than 1,400 acres have remained intact as a preserved nature habitat, wildlife encounters are to be expected. Neighborly encounters are customary too. Bonita Bay is a friendly community that caters to people of all ages and backgrounds, young families, singles, retired professionals and working professionals alike. Given the frequency of golf tournaments, tennis tournaments, social events and other activities routinely scheduled throughout the year, the community encourages all to commingle in celebration of what life has to offer in Bonita Bay. And though the community offers so much in terms of things-to-do, there's still more that awaits just outside the secured entry to Bonita Bay. The community is geographically centered between the City of Naples and Lee County community of Estero. A few minutes drive north or south opens the door to other exciting options in beach exploring, designer shopping, fine dining, arts & entertainment and more. Schools, churches, healthcare and other professional service providers are also only a mere few minutes from Bonita Bay. When it comes to location in Southwest Florida, Bonita Bay is simply blessed.
Home Options
Home buyers also have a range of options. With Bonita Bay's composite of single family villas, carriage and estate-style homes, as well as the eight luxury high-rises that ascend from the western boundary of the property, potential home buyers can effectively choose which floor plans and spaces are best suited for their lifestyle and budgetary requirements. Bonita Bay is comprised by some 29 subdivisions and depending on where you are, home prices can vary from upwards of $250,000 to $5,000,000.
"Bonita" means "Beautiful"
In terms of beautiful opportunities, the potential of owning a home in Bonita Bay is not something to pass-up … this development is not only pioneering, but it continues to be the penultimate provider of amenities that make life in Southwest Florida so satisfying. So few spaces are graced with the caliber of exclusivity in golf, tennis, fitness, clubhouse operations, marine services and more, but when combined with the range of home options and inherent virtues of peace, prosperity and beauty, Bonita Bay is simply as good as it gets in Southwest Florida.
Bonita Bay Amenities
Championship Golf
Bonita Bay Club has three Arthur Hills-designed courses on site and two additional Tom Fazio-design courses at Bonita Bay Naples (located nearby on Immokalee Road). The Bonita Bay Club courses were honored with status in the Certified Audubon Cooperative Sanctuary program in 1995, and Bonita Bay Naples was heralded by Golf Digest as the 1999 Environmental Leader in Golf. The Bonita Bay Club courses consist of The Marsh, Creekside and Bay Island. Each course offers challenges in water hazards, rolling fairways, shifting elevations and clever placement of bunkers, yet also impart glorious views in winding among natural wetlands and wide native strands of oak and cypress. The challenge for golfers is exhilarating, but the scenic backdrops are enthralling.
Tennis
Bonita Bay's tennis center is complemented with 18 Har-Tru courts that are lit for play after the sun has set. Completely refurbished in 2010, the courts are magnificently maintained in top playing condition. Bonita Bay Club has one of Southwest Florida's most comprehensive and competitive tennis programs, in fact, is the region's only community to facilitate services by two Master Professionals of the United States Professional Tennis Association.
Fitness Center
Bonita Bay's 10,000 square foot fitness center and spa not only provides the fully array in free weights and workout equipment, but also offers some three dozen cardio stations that each come with its own television monitor. In addition to the busy calendar of classes in Pilates, Yoga and Step Aerobics, there's a licensed staff of athletic trainers, massage therapists, estheticians and other specialists.
Clubhouse
Bonita Bay's 8,200 square foot clubhouse is equipped with a main dining room, mixed grill room and full service bar. It also has an exceptional golf pro shop and men's and women's locker areas. The beauty of this space, as well as the excellence imparted in catering services, make this a wonderful venue for wedding and anniversary celebrations and you-name-it in other society affairs. A ten minute drive south leads to Bonita Bay's private Beach Club off of Bonita Beach Road. Located along the sandy shores of the Gulf of Mexico, the beach club features picnic pavilions that allow for outdoor grilling, and also provides showers and restrooms. During season, a shuttle bus offers daily transports from Bonita Bay community to the beach club.
Private Marina
While some homes in Bonita Bay have docks on the Imperial River which runs right through the community, there is a full service private marina available for all boaters. The marina includes a fully-stocked ship's store, bait & tackle, wet and dry slips and additionally offers charter fishing or sightseeing services. The marina is also the home of Blackwater Jack's, a casual restaurant that serves savory fare in fresh seafood and other delicious dishes.
Nature Encounters
With more than 1,400 acres of the community preserved as a wildlife habitat, Bonita Bay is also made home by deer, eagles, otters and, yes, the occasional alligator. All manner of critter may be encountered along twelve miles of walking trails and bike paths that wind throughout the community.
Connectivity
Located between Naples and Estero, Bonita Bay offers quick and convenient access to points north and south. Some of Southwest Florida's leading attractions in upscale shopping and fine dining, such as The Promenade, Coconut Point Mall and Miromar Outlets, are only moments from Bonita Bay. Schools, churches, healthcare and other services are also conveniently close.