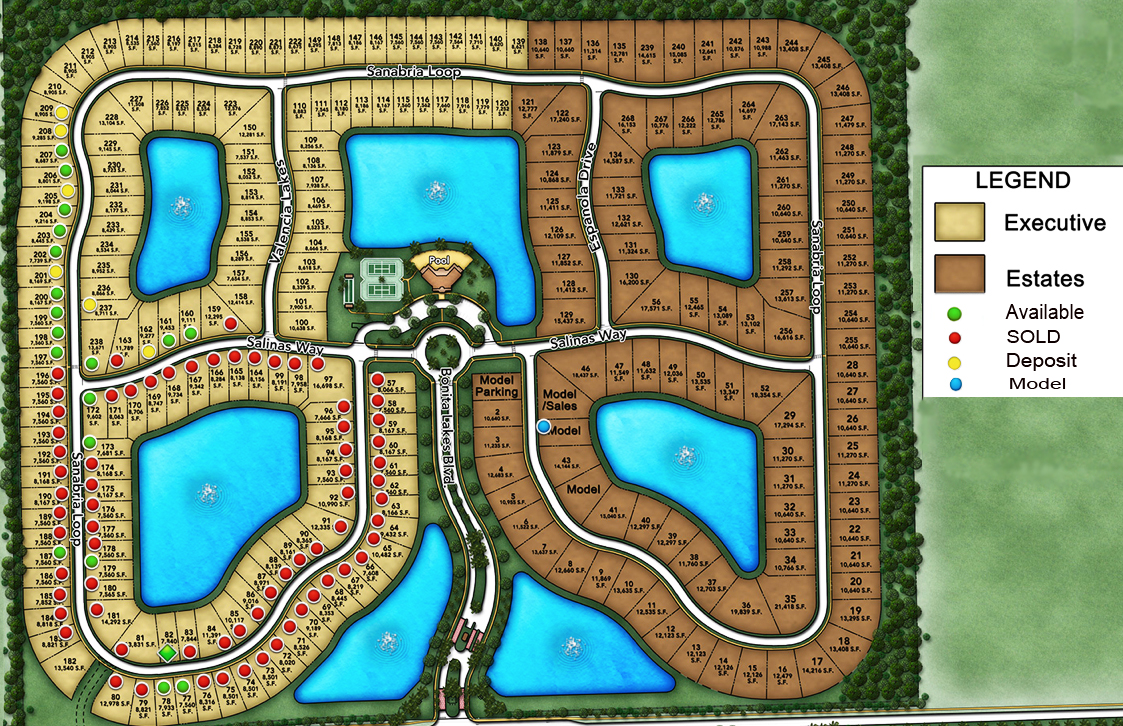 View All Bonita Lakes Listings
Amenities:

Clubhouse

Swimming & Tennis

Fitness Center

Near Shops/Dining
An author once suggested that love is like seeing clouds within the surface of a lake – "It's reflective and makes it feel like you're flying when you are really swimming."
For those reflecting on home possibilities in Southwest Florida, there is a certain lake front setting that is sure to invoke feelings of love as residents swim among the available amenities and quality of life it imparts, and to be sure, there will be many who will fly to the luxury opportunities currently amassing within a new private residential community known as Bonita Lakes.
Bonita Lakes is a relatively new development envisioned by Toll Brothers, a near half-century old firm that continues to command respect as one of America's most award-winning masters in in the art of home construction. Toll Brothers have exacted an indelible impression in Florida through the creation of remarkable, amenity-rich, residential communities such as Frenchman's Harbor of Palm Beach, Casabella at Windemere, Parkland Golf and Country Club, Jupiter Country Club and more. Locally, Toll Brothers' distinction in master-planned developing is being alluringly unveiled among areas that include The Reserve at Estero, Cordova at Spanish Wells and The Palazzo at Naples. Bonita Lakes will no doubt represent another jewel in this crown of communities.
Awesome Options
Architecturally, Bonita Lakes will be comprised by single-family executive and estate-style homes, each one executed with exquisite attention-to-detail and aesthetic appeal. The Executive collection is complemented by six flexible home designs that provide from 2,058 to 2,952 square-feet of living area, at prices ranging from $365,000 to more than $412,000. Homes allow for two to four bedroom and attached garage parking for two cars. The Estate collection similarly features six different floor plans for homes that grace wider home sites. Each home offers a generous (if not luxurious) expanse of space and exceptional elements in coffered ceilings, granite countertops, stainless steel appliances and more. Estate homes range in size from 2,710 to 4,354 square-feet, at prices ranging from $432,000 to more than $537,000. Estate homes allow for three to five bedrooms, three to four bathrooms and attached garage space for two to three vehicles. The availability of so many different floor plans enable homebuyers to more effectively determine which style is best-suited for requirements of their lifestyle and budget. And regardless of one's favored design, the structural integrity, the uncompromising reliance to superior standards of construction and excellence in interior and exterior elements adds a compelling characteristic to the completed product, as has become the custom of all projects undertaken by Toll Brothers.
The homes, however, are just one aspect of the life available at Bonita Lakes. As this is a community that caters to a variety of active lifestyles, residents will be greeted by a variety of amenities. The centerpiece of such benefits can be found within a spacious community clubhouse that will be complemented with several meeting rooms and space for hosting you-name-it in the way of social gatherings. Additional offerings include a large state-of-the-art fitness center, resort-style swimming pool, tennis courts, bocce ball courts and more, not to mention nature's bliss in peaceful common areas situated among the community's composite of seven lakes.
Close to Everything!
One of the best selling points of Bonita Lakes is the amazing access it allows to some of Southwest Florida's most favored of activities and attractions. Bonita Lakes is geographically centered between the major metropolitan Cities of Naples and Fort Myers, in fact, is between the smaller communities of Estero and Bonita Springs. Its location at 23005 Sanabria Loop off of Imperial Parkway, equates to proximity to an essential travel corridor, Interstate 75 and Southwest Florida International Airport. Residents of the community can more conveniently connect with all points north, south and beyond. At the same time, it turns out that so many of the places that most people want to go are all within a few minutes of Bonita Lakes. For example, several of the region's top destinations for designer shopping and fine dining are only some five minutes from Bonita Lakes. Coconut Point Mall, Miromar Outlets and Gulf Coast Town Center collectively offer some 500 options in shopping and dining presented by the world's leading brands.
For those who would rather walk along shores than walk among stores, you're in luck. Some of the most beautiful beaches on the Gulf of Mexico are only a short shuffle from Bonita Lakes. Whether one wants to score a few shells from the renowned shores of Sanibel Island, or enjoy a romantic sunset along Lover's Key or bask their toes in the tony tides along Barefoot Beach, these and other sandy dandies are just a short drive away. Another great outdoor adventure awaits some five minutes away, where the gentle winding waters of the Estero River beckon kayakers, bird watchers and fishermen alike. This miles-long waterway flows west from Estero before spilling into the estuary waters of Estero Bay. The flora and fauna found among the mangroves and backwaters offer a nature retreat like none other in the region, but again, that's just a few minutes from Bonita Lakes.
For those whose interests are more aligned with competitive sports versus conch shells, Bonita Lakes scores both a home run and a hole-in-a-one. To put that in perspective, consider that this region has been a backdrop for baseball training for almost a century. Here's a fun fact, every team that has trained in Southwest Florida has gone on to win the world series. At present, Southwest Florida serves as a home-away-from-home for the Boston Red Sox and the Minnesota Twins. Although these teams maintain operations here throughout the year, each spring, baseball is spotlighted during games played at Jet Blue Stadium and Hammond Stadium, which are only some 20 minutes away from Bonita Lakes. Of course, every season is great for golf and given the region's per capita composite of public and private holes, Southwest Florida has earned acclaim as "The Golf Capital of The World." Bonita Lakes is situated at the epicenter of all this activity and some of the region's most fabulous of fairways are mere minutes from the community. Whether its the course at Stoneybrook (one of the longest courses in the region), or that at Wildcat Run (an Arnold Palmer Signature course he once suggested as being among the best in the Southeastern U.S.) or Old Corkscrew (the only stand-alone Jack Nicklaus Signature course deemed #1 in SWFL by Golf Magazine); these and numerous others are appreciably near Bonita Lakes. Hockey fans can also get hyped over the action at Germain Arena, and NCAA basketball fans can drool over the dribbling at Dunk City, otherwise known as Alico Arena at Florida Gulf Coast University. Either of these venues are only some ten minutes away from Bonita Lakes.
What more, the access to healthcare, schools, churches, supermarkets and professional service providers is, again, something that amounts to another luxury further enriching the lifestyle available at Bonita Lakes. For the quality and affordability of the homes, for the array of amenities and for the access it imparts to the finer things of life in Southwest Florida, Bonita Lakes provides an ocean of opportunity for home buyers. Given Toll Brothers' brand and market demand in this growing area of the state, the reservoir of potential will inevitably run dry for new home buyers in a not-so-distant future. To avoid drowning in disappointment over an opportunity missed, best not doggy-paddle, but swim as fast as you can, to Bonita Lakes.