Domain Realty is Best Real Estate Company in SWFL
Posted: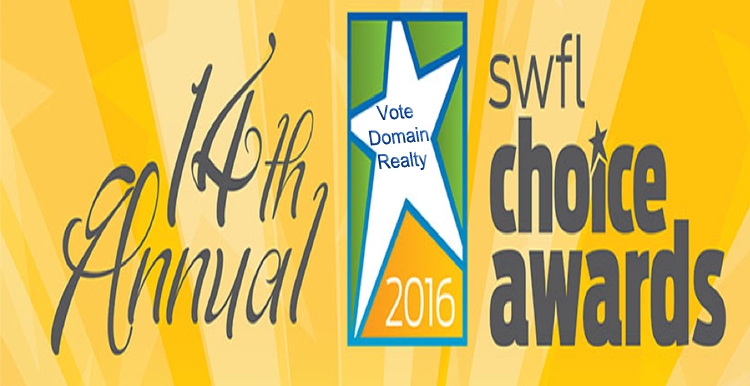 Please Help Us Recognize Domain Realty is Best Real Estate Company in SWFL
While our clients already know it, we're asking for your help in ensuring ALL know Domain Realty is the best real estate company in SWFL. For the last 14 years, Naples Daily News has sponsored the Southwest Florida Choice Awards, a program that allows area residents to identify their top choices, whether in terms of places to eat, places to shop, and yes, the top choice in real estate companies. We're asking you to cast your vote for Domain Realty as the top choice in real estate companies, as well as a vote for one of top producing agents, Melinda Sullivan, as choice Realtor.
To cast your vote now, simply CLICK HERE.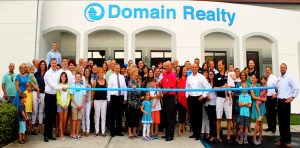 As the leading specialists in Southwest Florida real estate, our sole focus has been helping home buyers and home sellers here in our home. And to be sure, this is OUR home. This isn't simply where we work, it is where we live, where we raise our families, where we play and where we participate in initiatives that strive to enhance the quality of life for all here in our home. Nothing pleases us more than helping home buyers secure the home of their dreams. We've invested in the resources, technology, training and talent to effectively deliver greater convenience and results, in measures that quite often exceed customer expectations. While Domain Realty has become distinguished as the fastest growing real estate enterprise in the region, the fact remains that we never set out to become the largest. Our singular priority is providing the best service possible to our customers. The service mandate at Domain Realty compels us, at all times, to stay communicative, accountable, cognizant and completely committed to our customers' needs throughout the home buying or home selling process. Our industry peers have often asked us to explain the secret to our success, but it is no great mystery. Our success is proof of what is possible when one focuses on SERVICE, more than sales. For all that we achieved, our constant aim has been earning satisfaction of our customers. Domain Realty is best real estate company in SWFL because we so dedicate ourselves to providing the best service. Along the way, Domain Realty has also created outstanding career opportunities for the professionals with which we work, but all of us know, the customer always comes first. We recognize that buying or selling a home is one of the most important decisions you will ever make. We're grateful for the confidence and trust that our customers place in us, and it isn't something we take for granted. Your help in recognizing Domain Realty is best real estate company in SWFL will be greatly appreciated.
And if we can help provide you with information on current properties for sale in our region, please don't hesitate to contact us by Clicking Here.
Homes For Sale in Naples
Homes for Sale in Bonita Springs
Homes For Sale in Estero
Homes For Sale in Fort Myers
Domain Realty is best real estate company in SWFL